Investor Dilemma: Hold, Refinance or Sell Your Property
As you continue building up your real estate portfolio, it is easy to become complacent and not maximize the full potential of your assets.  Even if your initial investments have had some success, you should have decent cash flow, equity and appreciation.  Thus you've reached a point where you can be content with what you have or you can substantially improve on the gains you've already made!  Regardless of your decision, take a quick moment to analyze your options and let the numbers help decide your next step.
When reviewing your portfolio, the goal is to figure where you will obtain the best return.  In some cases, you'll discover that refinancing a property and using the cash to purchase additional properties will yield you a higher return.  However, there are times when holding your properties and doing nothing might be the right answer.  Let's look at a couple of examples that will illustrate what I mean.
Property Example One:
In our first example, we will be reviewing a property that currently has a house value of $420,000.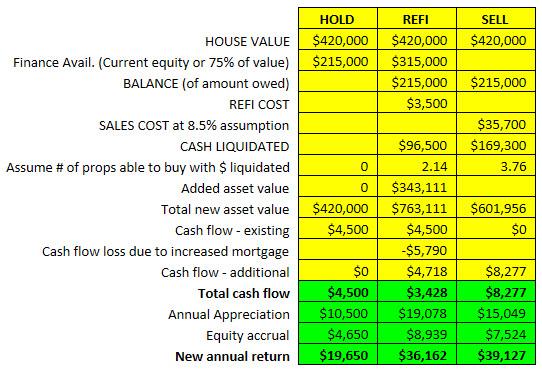 As you can see, the initial assumption that holding the property as is in our portfolio isn't a bad decision as it will still yield an annual return of over $19k.  However, after reviewing all three options, you'll see that selling this property will yield a higher return on our investment and, will give us just over $169k to put into the purchase of 3 to 4 additional properties — growing your portfolio and setting you up for a much higher overall annual return.
Property Example Two:
In our second example, we are reviewing a property that currently has a house value of $140,000.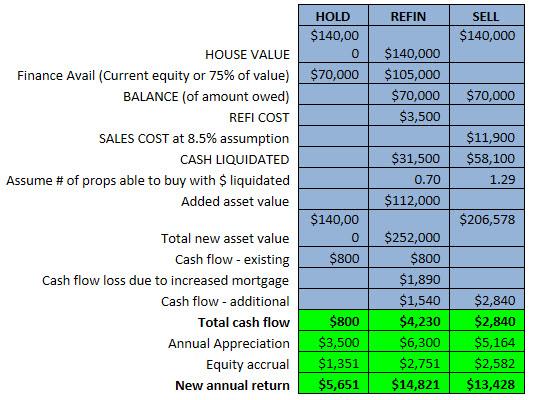 With this property, you'll see that we are open to a couple of different options.  Yes, you could sell this property; however, with the funds you'll receive, you can only afford one new property.  Depending on the value of the next property, selling one to purchase another one might not yield you the highest overall return.
However, if you were to refinance this property, you would be able to purchase a second property and still maintain ownership of this property.  That option will give you two properties and the opportunity to make a much greater profit down the road.
How to Decide Which Road is Best
It's a good rule of thumb to review your real estate portfolio annually.  Depending on the market, your current situation, and your long-term goals, you'll want to review each of your properties individually and decide on each one and not your overall portfolio.
Looking for a little guidance in what your best strategy might be?  Then contact your Advisory Team at Simply Do It! Our industry experts are here to help you throughout your investment life-cycle and not just during the purchase process.  We'll review your portfolio with you and work with you to come up with the most strategic plan to fit your goals and yield you the highest return on investment possible.
[maxbutton id="3″]
[maxbutton id="2″ ]